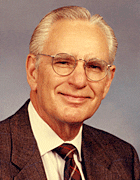 Vance E. Brown, P.E., a WWII veteran, formed BSE Engineering in 1962 to meet the needs of the A/E/C industry to provide skilled electrical engineering design services for a growing region.
The business quickly grew and was incorporated in 1967. The firm developed many high profile clients and completed projects across San Diego and Southern California. These included commercial office and retail buildings, military facilities, K-12 schools, colleges and universities, hospitals, and other public facilities. As the company expanded, Mr. Brown continued to provide hands-on engineering guidance and leadership in the field.
His efforts included hundreds of projects for the Reagan era military buildup in San Diego and the surrounding military bases in Southern California, major Hospital Construction and Emergency Power System Expansions, new California State Prison complexes, the expansion of the San Diego International Airport, expansions of Waterfront and Port Facilities, new College and University Buildings and Campuses, and large Office Building Remodels and New Constructions projects.
Our Founding President Vance Brown, P.E. would be proud to see that his corporation is leading the way in embracing and promoting environmentally sound and sustainable design practices across Southern California's industries and construction sector.